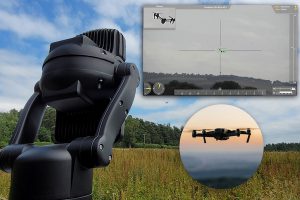 Predator SkyView360 integrated autonomous drone detection solution
Designed to create a highly accurate and cost-effective drone detection and tracking solution for all aspects of the Critical National Infrastructure (CNI) / security market, the Predator SkyView360 camera is a complete integrated optical and autonomous counter-drone surveillance solution.
Predator SkyView360 uses advanced Artificial Intelligence (AI), called SkyAI, to autonomously detect and track any drone, classifying by type and differentiating between drone and other, non-threatening flying objects, such as birds. The technology can also be used to alert to other ground or water borne threats.
In addition to serious security implications at CNI sites including airports, prisons and remote utilities, drone attack and intrusions can cause downtime and serious safety implications for stadiums and event venues, as well as sites such as oil and gas facilities.
Complementing the industry-standard 360 Vision Predator camera, the new AI technology combats the use of drones using pixel-accurate technology, tracking any unmanned vehicle both above and below the horizon – even on the visually complex backgrounds common to many applications.
With simple set-up and fast installation, 360 Vision's Predator SkyView360 can be connected to any ONVIF compliant VMS/PSIM software, and for specific applications, can be combined with other 360 Vision or third-party technology, such as Radar and/or RF detection.
For information on the Predator SkyView360 camera:
Download the Predator SkyView360 Brochure