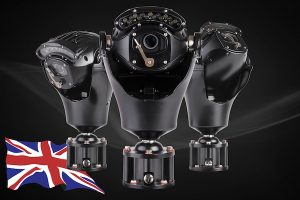 Upgraded 360 Vision Technology Invictus ultra-low-light HD ruggedised PTZ camera now available 
UK CCTV manufacturing company, 360 Vision Technology, has announced the release of an upgraded Invictus ultra-low-light, high-performance, HD ruggedised PTZ camera.
Bridging the divide between analogue and IP systems, and coupled to attractive pricing, the upgraded Invictus features a further reduction in power consumption, offering system operators even greater energy savings, allied to lower running costs.
Already a great success story for 360 Vision, the new upgraded Invictus camera builds upon the previous highly-competitive all-in-one PTZ package, to deliver a camera that is not only a viable alternative to other low-cost options, but has a lower carbon footprint too, helping end-users such as Local Authorities to meet their carbon footprint reduction goals. "On larger projects, the savings on energy and reduction in associated pollution offer significant advantages over Far East camera alternatives," states Adrian Kirk, Strategic Account Director at 360 Vision. "With a host of performance and user centric operational benefits, the upgraded Invictus is well placed to feature extensively in future Local Authority upgrades, as customers look at total cost of ownership and the need to ensure CCTV equipment deployed road side is fit for purpose."
Encompassing an ultra-reliable and accurate self-calibrating Direct Drive pan & tilt mechanism, Invictus also features 360 Vision's'Attack Detect',that automatically responds to a detectedincrease in camera load (such as the camera being struck by an object). On detection, the camera's direct-drive pan & tilt mechanism instantaneously disengages to prevent damage to the motor drive. A 'self-check' routine then establishes if the camera has altered its direction of view during the attack, and an automatic re-initialisation is triggered – returning the camera to its last known position prior to the impact.
The benefits of Invictus' Attack Detect response to system operators is that post-attack, the camera returns to its correct field of view, prior to being forcibly moved. This means that vital evidential footage will continue to be captured, and without the need for operator intervention. The feature also ensures that all camera-preset positions remain intact – which is vital to avoid disruption to the daily running of a surveillance system due to inaccurate preset positions.
"Public space CCTV and cameras securing perimeters typically operate adjacent to roads, with a heightened risk of impact from vehicles, be it accidentally or maliciously," Adrian continues. "Installing Invictus ruggedised cameras into these locations provides customers with a 'fit for purpose' rugged at the roadside solution, that ensures continued performance, even under attack."
Completing the upgraded Invictus' camera package, high-quality paint finishes are available in black or white, or for operation within marine environments, a long-life paint option can be specified. In addition, Invictus is supported by 360 Vision's UK based design and manufacturing resource, and a comprehensive 3-year warranty, or an enhanced optional 5-year full warranty on request.