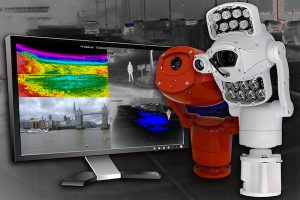 Date announced for thermal imaging technology Learning Webinar
In light of the incredible success of previous learning webinars covering both video and radar technologies,  360 Vision Technology, the UK manufacturer of rugged PTZ and thermal imaging cameras, is demystifying the application and deployment of thermal imaging in its latest Technology Learning Webinar.
Scheduled for Thursday 18th March, 10am-11am, the free-of-charge Understanding Thermal Camera Technology Webinar offers an overview of basic thermal camera principles, available technologies, system integration, product selection and is also supported with a range of installation and video footage examples.
Aimed at security consultants and system designers, the 360 Vision Technology webinar explores the use of thermal imaging technology to provide advanced security surveillance in the most demanding environments.  Integrated with 360 Vision Technology's fully ruggedised 'Predator' PTZ assembly or full Stainless Steel 'Eclipse', the combination of thermal imaging and physical durability provides unbeatable performance.
"We are extremely delighted to be announcing the next date for our highly popular technology webinar series," says Sara Fisher, Sales Director at 360 Vision Technology. "In this session, we'll be looking at how thermal imaging can be successfully used in a variety of applications, including security, traffic monitoring and leveraged with powerful analytical engines. Providing an understanding and overview of the different types of thermal technology available, this webinar will be highly beneficial for anyone interested in deploying surveillance technology to dramatically improve on detection and alert capabilities."
To book a place on the free-of-charge Understanding Thermal Camera Technology Webinar (Thursday 18th March, 10am-11am), please use the registration link below: https://register.gotowebinar.com/register/312221033084076560