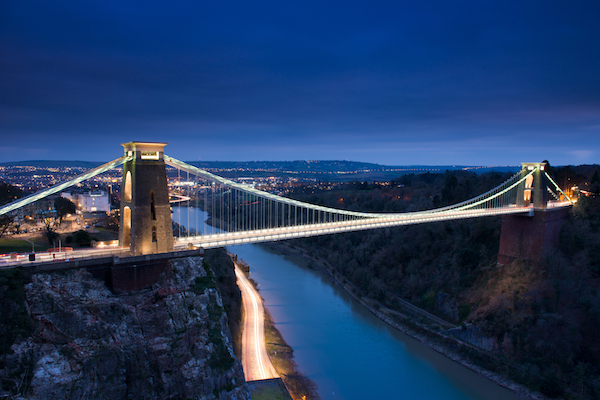 360 Vision Technology highlights an increasing trend for the deployment of
Predator thermal camera technology on bridge crossings
Q&A with Adrian Kirk, Strategic Account Director at 360 Vision Technology
Graeme Powell of GPM spoke to Adrian Kirk and started by asking: What experience do you have of thermal camera deployment?:
"We have seen quite a number of our Predator Thermal PTZ's specified for deployment on some of our most iconic bridges all over the UK in recent years. From the Firth of Forth in Scotland, all the way down to the down to Cornwall and Plymouth in Devon."
What are the prerequisites of thermal cameras in this application?:
"Firstly, it's important to install surveillance cameras that can deal with the harsh environmental conditions often seen in bridge applications, and at locations that often span large river crossings with a highly saline environment.
"Bridge applications are particularly challenging for cameras and other electrical monitoring devices, being exposed to salt, wind and the corrosive effect these conditions can inflict. Added to which, cameras are often deployed in locations which are difficult to access, so if they do prematurely fail, their repair or replacement can potentially cause disruption to service for the bridge operator.
"Maintaining bridge structures often comprises a perpetual regime of refreshing paint, in what is a constant battle against the elements. One of the main considerations for choosing the Predator Thermal PTZ is undoubtedly its renowned camera housing durability, and particularly when the camera specification is upgraded with the option of 360 Vision's industry leading 'marine grade' paint finish. This specially developed paint provides very effective protection against the elements, extending a cameras operational lifecycle and negating the need to prematurely replace a camera – along with the associated logistical headaches and costs."
What are the operational benefits of the thermal cameras in this application?:
"Predator Thermal is often used to perform a dual purpose solution. The camera's 1080p HD day/night imaging sensor has a 40:1 optical zoom, which is great for use in traffic flow and pedestrian monitoring. With its low light capabilities and optional built-in long range infrared illumination, the Predator is field-proven to be a very capable PTZ camera for use in general operational surveillance.
"The addition of a high specification thermal imaging camera with a range of lens options, providing a field of view from 60 – 6 degrees, allows operators to see even if a bridge is engulfed by thick fog or heavy rain. It can also be used as an effective early warning tool – as part of a health & safety strategy to identify potentially vulnerable persons who may be loitering or stationary on the bridge.
"360 Vision takes great pride in the fact that the Predator Thermal camera is used to support emergency responders with robust, clear and accurate imaging information with which to identify people at risk on their bridge structures. In this regard, we are currently talking to a number of stakeholders, ranging from police, to charities, interested in the safety of vulnerable persons, in particular about how we can assist with trials at other locations where 360 Vision can provide innovative surveillance technology that will provide further benefits as part of joined-up security and management strategies."
How is the thermal camera image presented to the operator?:
"The Predator thermal camera provides two video outputs. The first is the day/night video, the second thermal image is provided simultaneously. End-users will typically have the two video outputs displayed side-by-side on a video wall, with the potential for the thermal camera to be 'bore sighted' with the day/night video. This allows the operator to use the thermal imaging camera for detection, backed-up by the camera's powerful 40:1 zoom capability to zoom into the object at the centre of the thermal image.
"In respect of integration to customers' control equipment and video management software, 360 Vision has developed deep integration with all leading VMS platforms and is a fully signed ONVIF partner to ensure all customers irrespective of their back office setup can benefit from Predator HD and Predator Thermal camera technology.
"In summary, Predator Thermal has proven it can be an invaluable surveillance tool with a strong business case for operators for both operational and safety purposes. Furthermore, being designed and manufactured in the UK, the camera is fully supported by a locally based team. On a personal level, it gives me and the team at 360 Vision great satisfaction in knowing that our iconic Predator PTZ camera is being used to help keep our essential bridge crossings safe for all."