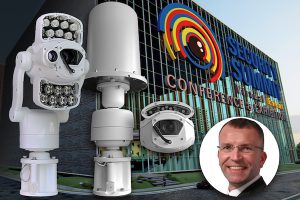 360 Vision Technology explore Radar and Thermal camera deployment in Security Summit Live Virtual Presentation
360 Vision Technology, the UK manufacturer of rugged PTZ and thermal imaging cameras, will be promoting the application and deployment of radar and thermal imaging at Security Summit 2021, one of the largest virtual security industry events in Europe.
Scheduled for 11.30-12.00 (GMT), Wednesday May 5th, the free-to-attend live virtual keynote presentation will be given by 360 Vision's technology expert, Tony Holloway, on the subject of 'The application of radar and thermal surveillance technologies for large area security detection.'
In his keynote speech, Tony will discuss the technology, performance differences and considerations for the deployment of radar and thermal detection cameras suitable for large area surveillance applications.  Underpinned by the science behind the solutions, Tony will explore the features and limits, to enable attendees to clearly identify applications for successful deployment.
"Following the recent success of our technology learning webinars, we are delighted to have been offered  the opportunity to deliver a technology keynote speech at the Security Summit Virtual Event," says Sara Fisher, Sales Director at 360 Vision Technology. "In Tony's presentation, he'll be looking at how radar and thermal imaging can be successfully specified for use in a variety of large area applications. The presentation will be highly beneficial for anyone interested in deploying a surveillance capability that offers immediate and reliable detection, with simultaneous alert and visual verification."
To register for 360 Vision's free-to-attend Security Summit 2021 keynote presentation (at 11.30-12.00 GMT, Wednesday May 5th), please use the following link: https://pro.connect2bnet.com/signup