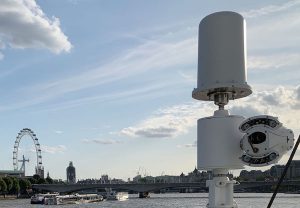 360 Vision's award-winning Predator Radar System: Taking the Security Detection World by storm
360 Vision Technology, the UK manufacturer of rugged PTZ and thermal imaging cameras, has announced a substantial increase in requirements for its Predator Radar 'all-in-one' detection solution.
The increase, which has arisen mainly from CNI type clients, seems to relate to two specific factors:  Predator Radar works effectively in applications where analytics and other technologies do not and with far fewer false alarm activations.  A single Predator Radar unit covers a detection range of over 125,000 square metres and is significantly more cost effective than using fixed cameras with analytics to cover the same area.
"It's really exciting to see such a dramatic increase in both the installations and specification of Predator Radar across so many different applications and geographical markets," comments Sara Fisher, Sales Director at 360 Vision Technology. "In one particular scenario, alternative analytics technology was over 4 times the cost of the Predator Radar solution and this didn't even take into account the significant reduction of infrastructure costs involved in installing far fewer cameras than would be required for conventional analytics."
Predator Radar is a 'one stop solution' which can provide impressive intrusion or vehicle detection and object tracking over a 400m diameter detection footprint, with a live tracking view of up to 8 simultaneous targets.  Ideal for covering specific areas of risk and large open spaces such as car compounds, rooftops, perimeters, international borders and oil pipelines, Predator Radar offers immediate, reliable detection with simultaneous visual verification, as well as the ability to set multi-zone alarm areas, priority classification and exclusion zones.  Impressive GPS, Mapping and Time-scheduling capabilities makes Predator Radar a comprehensive and extremely powerful 'all-in-one', standalone security solution. Furthermore, the unit can be used in conjunction with 360 Vision's extensive range of thermal cameras with off-grid and wireless options, offering connection on 3G/4G/5G and even GPRS, also available.
"This integrated Predator Radar solution is just another clear example of 360 Vision's ability to add value and to save cost by combining innovative, complementary technologies together," continues Sara. "Along with a completely flexible product build approach and our UK manufacturing credentials, these factors mount up to unique, significant and compelling differentiators for 360 Vision, standing us apart from any other global camera manufacturer. So, if you want the best security technology solution, designed around your application and with the credibility and high standards of Great British manufacturing at its best, 360 Vision has to be your only choice."
Click here to download the Predator Brochure
Click here to download a Radar Case Study