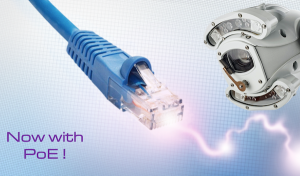 360 Vision Technology launches PoE capability on new generation of rugged PTZ cameras
360 Vision Technology, the UK manufacturer of rugged PTZ and thermal imaging cameras, is delighted to announce the launch of PoE capability across its range of rugged PTZ cameras.
In response to customer demand, 360 Vision can confirm that PoE capability, complaint to the 90W IEEE 802.3bt PoE standard, has now been added to the core range options of both its Invictus and Predator cameras.
"In the wake of our recent announcement relating to our exciting 'super low power' camera options, we are delighted to be able to make the new PoE capability available to our customers," says Mark Rees, Managing Director at 360 Vision Technology. "The demand for PoE cameras has increased significantly, due to the additional benefits available with this technology. Site installation flexibility, and a reduction in both cabling and hardware requirements are 'game-changers', particularly in locations where there is no localised power available. Our recent drive to dramatically improve power efficiency and green energy credentials has enabled us to add this important feature to the new generation of both camera ranges."
The new PoE capability extends to all options on the Invictus range, including those with infrared and white light.  For the Predator range, PoE is available for lighting options up to 250m for both infrared and/or white light.
Mark continues: "We are extremely proud of our recent, significant product enhancements.  This PoE capability is another extension of our extremely progressive development roadmap, which includes the recently released Wireless TX unit and low power camera options. We have further innovative developments on the way very soon, particularly in relation to our thermal imaging capabilities and other third-party integrations.  It really is very much a case of 'watch this space' for regular, ground-breaking product news from 360 Vision."
Downloaded the range brochures here