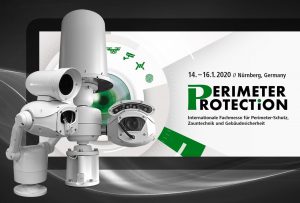 360 Vision Technology display advanced video surveillance range at Perimeter Protection 2020
360 Vision Technology, the market leading UK CCTV manufacturer, will be showing their latest range of high-performance video surveillance cameras at Perimeter Protection, 14-16 January 2020, Nuremberg, Germany.
Perfect for a wide range of high-security surveillance applications, 360 Vision Technology will be showing their latest version of Predator Radar, an award winner at the Security Essen 'Security Innovation Awards 2018'. Scanning 360 degrees once every second, the new compact radar camera can detect and track multiple objects simultaneously (with 400m coverage) – providing a highly effective surveillance camera solution for wide area security monitoring and intruder detection, such as within borders and compounds.
Delivering high-resolution images in all environments, 360 Vision Technology will also be demonstrating their advance Predator Thermal camera, which uses high-performance thermal imaging to see through smoke, dust, light fog, haze and darkness.
The Predator Thermal camera's heat based thermal imaging can be used to detect recently driven vehicles, hidden people, recently disturbed ground, footprints and hidden objects with heat traces. In addition, the thermal imaging camera can be used in process control, where accurate fault detection via thermal imaging can be used to detect potential health & safety issues.
The ideal choice for effective 24-hour surveillance and intrusion detection, the Predator Thermal camera includes analogue and 1/1.9" Sony HD sensor equipped models, that also deliver incredible colour or monochrome images during the hours of darkness.
Safeguarding against hacking and ransomware attacks, 360 Vision cameras feature advanced SSL & 802.1 encryption protection, and high-performance camera technology designed to deliver secure 24/7 video imaging, reliability and performance within any application.
"All 360 Vision Technology surveillance camera products are designed to deliver advanced situational awareness, identification and alert to activity within any surveillance application," says Mark Rees, Managing Director at 360 Vision. "At Perimeter Protection, we will be demonstrating our range of high-performance imaging cameras, that are suitable for border security, perimeter, sterile and hazardous areas, process control, and zero light surveillance."