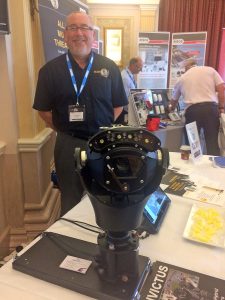 Ogier report strong support for 360 Vision's new INVICTUS Hybrid Ultra-Low-Light HD PTZ camera at ST18
360 Vision Technology technical partner Ogier Electronics, report strong support for the newly launched Invictus cost-effective, high-performance, ruggedised all-in-one PTZ camera, during their demonstration at SecurityTWENTY 18 Conference and Exhibition (ST18 North), Harrogate.
At the close of last week's ST18 North, Ogier's Sales and Marketing Director, Mark Rainbow, reported consistently positive feedback to Invictus from visiting delegates. "Along with very attractive pricing for its high-level of performance and rugged build quality, delegates were clearly impressed with the Ogier Radar/Invictus camera combination for applications such as wide-area and perimeter fence line intruder/activity detection," says Mark. "We already have the camera combination installed at Tilbury Docks, where the Radar/Invictus combo is monitored by Netwatch Open Site Surveillance 24/7, ensuring highly-effective security for Hyundai new vehicle storage.
"I see Invictus being the ideal full 1080P HD, ultra low-light camera for off-grid temporary/rapid deployment mobile surveillance rigs, where Invictus's low power consumption will greatly assist the longevity of critical battery power supply in the field. Lower cost than installing a number of traditional surveillance cameras and along with the benefit of less infrastructure being required, the Ogier Radar/Invictus camera combination for wide-area monitoring was very well received by installers. We had a number of enquiries about the combo's use for quarries, mines, solar fields and warehouse loading yards/truck storage facilities. For us, the latest ONVIF 2.4 Profile S compliant protocols makes integration of Invictus into our radar systems simple and fast, it just works."
"The new Invictus camera's unparalleled mix of competitive cost and Predator low-light camera imaging technology seems to be attracting more and more installers to 360 Vision's latest offering," says Mark Rees, Business Development Director at 360 Vision. "It's great to hear Mark Rainbow's exhibition feedback on the Ogier Radar/Invictus combination is inspiring integrators to look at adapting the novel technology for high-security surveillance detection applications."