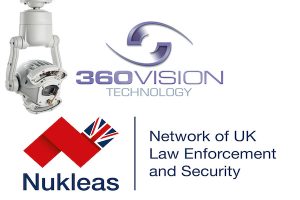 360 Vision Technology joins NUKLEAS 'Best of British' consortium
UK CCTV manufacturing company, 360 Vision Technology, has confirmed its participation in Network of UK Law Enforcement and Security (NUKLEAS).
With a strong emphasis on the delivery of technical innovation and design, 360 Vision has forged many close working partnerships with an array of technology leaders. Now, with its membership of NUKLEAS, the company is providing a key to enable turnkey systems for a wide range of security surveillance applications.
"Supported by the UK Government's Department for International Trade, the NUKLEAS consortium concept has been developed to offer discerning international customers a coordinated, and integrated command and control solution for any security, management or safety requirement," explains Richard Freeman, NUKLEAS Director. "The highly reputable consortium of companies' products and software solutions have all been developed and manufactured in the UK. Now, for the first time, NUKLEAS offers their combined powerful end-to-end field-proven integrated solutions, backed by long-term customer support, under one entity."
Commenting on 360 Vision's commitment to NUKLEAS in providing its surveillance imaging expertise, rugged & reliable product performance, and outstanding customer support, Mark Rees, ManagingDirector at 360 Vision Technology said: "For 360 Vision, the opportunity to work in collaboration with a mix of other leading British technology companies was an easy decision. NUKLEAS' global approach offers a powerful route for business growth, particularly for Export markets, where we can capitalise on the combined consortium members' presence in any particular region, to deliver our high-performance CCTV camera solutions to protect people and infrastructure."
360 Vision Technology's security surveillance product range includes static and integrated PTZ analogue and HD cameras, cooled & uncooled thermal, polished stainless steel and radar controlled cameras, and patent pending, integrated and stand-alone SIRIUS white light & infrared LED illuminators.