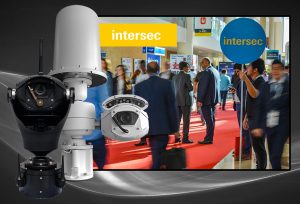 360 Vision Technology show new TX wireless video and Predator Radar camera ranges – at Intersec 2020
360 Vision Technology, the leading UK CCTV manufacturer, will be showing their latest range of high-performance surveillance cameras on the Nukleas Integrated Security Solutions booth, Sheikh Saeed 2, G35, at Intersec 2020, 19-21 January, Dubai.
For those looking for a reliable 3G/4G/LTE 'wireless' camera video solution, 360 Vision will be showing the ultimate performance Predator, Invictus and lightweight VR Dome PTZ wireless 'TX' video transmission cameras. Saving installers and end-users money on installation time, the TX Range needs no fixed infrastructure and provides 3G/4G/LTE wireless transmission in difficult environments.
Suitable for rapid or temporary redeployable, or permanent deployment applications, 360 Vision's TX technology delivers video & PTZ control from just 6 Kbps and Full 1080p HD edge recording, with remote retrieval on demand.
"Unlike traditional off-the-shelf wireless video transmission systems, the new 360 Vision TX Range has been specifically designed to suit low-bandwidth or unreliable network conditions, such as satellite or cellular networks," says Mark Rees, Managing Director at 360 Vision. "IK10 certified, TX Range cameras include built-in cyber security, local point-to-point Wi-Fi access, easy Plug & Play set-up, require no fixed infrastructure and can be easily integrated into any leading VMS control systems."
360 Vision will also be showing their latest Predator Radar compact camera. Perfect for a wide range of electronic surveillance applications, Predator Radar scans 360 degrees once every second, to detect and track multiple objects simultaneously (with 400m coverage) – providing a highly effective surveillance camera solution for wide area security monitoring and intruder detection, such as within borders and compounds.
Safeguarding against hacking and ransomware attacks, 360 Vision cameras feature advanced SSL & 802.1 encryption protection, and high-performance camera technology designed to deliver secure 24/7 video imaging, reliability and performance within any application.
"We're delighted to be at the show as part of Nukleas, the Integrated Security Solutions consortium that combines British industry excellence to support customers with complementary solutions designed to offer a refreshingly coordinated approach to all types of security projects," Mark continues. "The Nukleas single integrated solution combines 360 Vision Technology's robust camera surveillance solutions, along with the consortium members'  command and control systems, secure wireless transmission and networking, integrated communication hubs, incident management, perimeter intrusion detection, video analytics and safety solutions, all tailored and scalable for each unique project requirement."