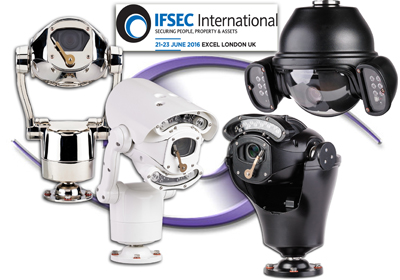 360 Vision Technology fields massive display of cameras at IFSEC 2016
Supporting the security industry's leading manufacturers and solutions providers, CCTV design and manufacturing company, 360 Vision Technology, will be fielding a massive range of their high-performance surveillance cameras at IFSEC 2016.
To be found on five different IFSEC stands, 360 Vision's high-performance Predator, Centurion, Black Hawk and Predator Stainless Steel PTZ cameras can all be seen at the exhibition. Being displayed in a variety of camera/control combinations, models on show include analogue, Infrared, HD, thermal and integrated IR & white illuminator – illustrating 360 Vision's breadth of video surveillance imaging technology.
Visitors to the show can see the cameras in action at Wireless CCTV (stand no E375), IndigoVision (stand no E900), Ogier (stand no F800), Altron (stand no B710) and Geoquip (stand no F1500).
"We're very pleased to be supporting our integrator, control manufacturer and technical solutions partners with a wide range of camera technology at IFSEC 2016," says Mark Rees, Business Development Director at 360 Vision. "Showcasing 360 Vision camera technology, various specifications of our high-performance Predator, Centurion and Black Hawk camera range and integration within some of the industry's leading technologies, reinforces the use of 360 Vision Technology cameras to obtain video imaging performance, reliability and benefits for any system application."