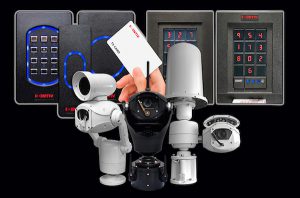 360 Vision Technology and Identiv partnership enables comprehensive security solutions
360 Vision Technology, the UK manufacturer of rugged HD, radar and thermal imaging PTZ cameras, has announced a technical partnership to provide complete end-to-end security solutions and full systems integration with Identiv's CPNI-certified access control platform, intelligent video management system (VMS), and IT storage.
A global leader in digitally securing the physical world, Identiv's platform encompasses RFID and NFC, cybersecurity, and a full spectrum of physical access, video, and audio security. Identiv's physical access control and video intelligence solutions are feature-rich, and their hardware and software systems verify frictionless access that can be managed from anywhere.
Under the new partnership, Identiv will integrate its physical security solutions with 360 Vison's range of rugged domes, HD, and radar PTZ cameras. Essentially, this will be to provide customers with powerful end-to-end security, management, and health and safety monitoring solutions, for the CPNI oil and gas, retail, finance, education and healthcare sectors.
"Identiv's strategy for physical security in the EMEA region is to provide a true end-to-end total solution," explains Richard Marshall, Identiv EMEA Sales Director. "We are impressed by 360 Vision's comprehensive camera range, build quality, and their support cover for EMEA. 360 Vision Technology's world-class surveillance camera imaging combined with our full IT infrastructure and award-winning CPNI-approved physical access control platform provides our customers and partners with a completely integrated security solution."
"When it comes to competitively priced, high-end security, Identiv boasts a wide range of robust, feature-rich, frictionless access solutions that deliver cutting-edge door readers, intelligent telephone entry, and video paired with data to deliver excellence in security surveillance protection," says Sara Fisher, Sales Director at 360 Vision Technology. "Identiv's fully-scalable access control, IT storage, and VMS solutions make a perfect partnership with 360 Vision's range of high-performance industrial PTZ cameras."