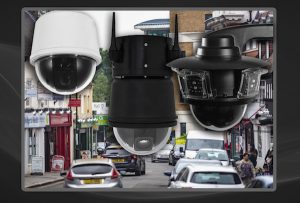 360 Vision Technology goes 'Back to the future' with re-launch of its iconic dome cameras
360 Vision Technology, the UK manufacturer of rugged PTZ and thermal imaging cameras, is delighted to announce that the iconic UK manufactured 'VR Dome', with a heritage spanning almost two decades, is making a vibrant comeback in today's highly competitive PTZ camera marketplace.
"With an increasing focus on total cost of ownership by many end user customers, the VR Dome is again proving to be a compelling proposition commercially and leads the pack from a quality point of view," comments Sara Fisher, Business Development Director at 360 Vision. "In addition, we're seeing an increase in demand from end users seeking UK manufactured security products, which is an encouraging trend."
Built with the super high performance Sony StarVis chip and with 20:1 and 30:1 zoom options, both internal and external HD 1080p dome camera ranges are now available with a multitude of mounting options, and full integration with all ONVIF compatible DVR's and VMS platforms. The dome products also have proven longevity of 15 years+ and the same DNA as 360 Vision's flagship Predator rugged PTZ with 'best in class cyber protection'.
"When 360 Vision started trading in 2003, dome cameras represented our core product range and we were the market leader in the retail sector at the time," states Sara. "Whilst requirements to supply dome type cameras have changed in recent years, with many of the far east imported cameras seeking to match the overt style of our iconic Predator range, more end users are now seeing the virtue of the VR Dome's less obtrusive design. Everyone knows a camera is there, but not necessarily where it is facing. Additionally, demand has again increased significantly in conjunction with the launch of our Wireless TX 4G/5G/LTE base unit.  In fact, the VR Dome is the most common choice of camera to be paired with this wireless product in local authority applications."
In addition to the large range of PTZ dome products available, a very unique product option within the external dome range is the Illuminator Dome, which offers up to 360 degrees IR and white light capability.
Sara continues: "Many people don't know that 360 Vision were the first camera manufacturer to launch white light technology as part of a CCTV camera solution. But, what is even more interesting about the recent surge of enquiries for the dome products, is that clients seem to be selecting our PTZ domes for both internal and external locations, in place of static cameras.  This change of approach appears to be down to versatility, ease of set-up and competitive pricing.  On that basis our dome ranges do seem to have it all."
Download the latest VR Dome Datasheets here