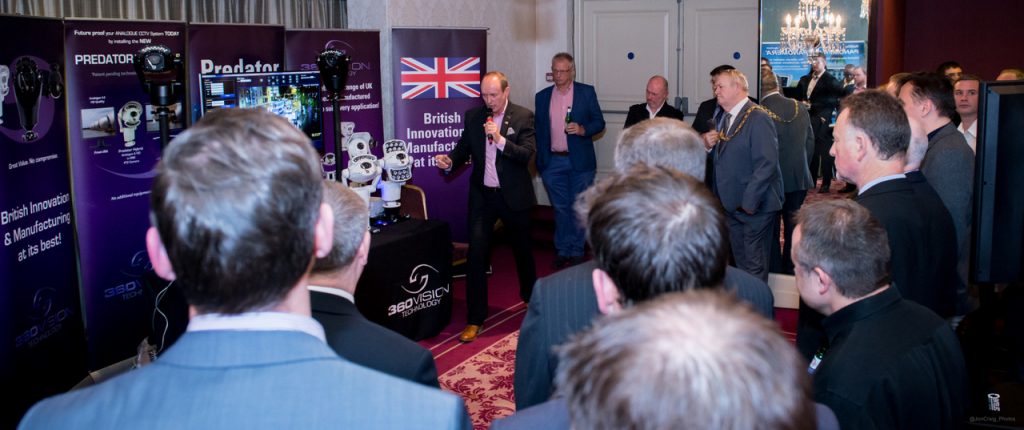 360 Vision Technology demonstrate 'Best of British' technology at Global MSC Conference
Underpinning their acknowledged reputation as a market leading surveillance camera manufacturer, at the recent Global MSC Security Conference & Exhibition 2016, 360 Vision Technology gave an in-depth presentation to industry professionals and invited guests, about the performance benefits to be gained when deploying the company's latest camera products.
"With a large team of highly experienced software, electronic and mechanical engineers based at the company's UK head office, 360 Vision Technology is consistently innovating and expanding its camera product range to meet the security industry's ever changing needs," says Mark Rees, Business Development Director, 360 Vision Technology. "The Global MSC Security Conference & Exhibition provided us with a very effective platform to promote our industry leading technology, quality and depth of support we offer as a British company with state-of-the-art in-house design and manufacturing facilities.
"The Global MSC event provides a one-stop-shop for security professionals, consultants and end-users to acquire a comprehensive overview and insight into the latest developments the security industry has to offer. As such, this event gives security product manufacturers unparalleled access to the industry's key decision makers."
With an audience that included Jeff Lovell, the Lord Mayor of Bristol, speaking prior to the event's Gala Dinner, 360 Vision Technology's Adrian Kirk, Director of Strategic Accounts, talked about the company's Predator, Centurion and new Overview cameras. Adrian's presentation included live control and video from a camera within the Bristol city centre network – illustrating the camera's advanced technological capabilities within a 'real world' environment.
The full 360 Vision Technology range includes static and integrated PTZ, HD, cooled & uncooled thermal, polished stainless steel and radar controlled cameras, and patent pending integrated and stand-alone SIRIUS white light & infrared LED illuminators.
Commenting on the event, Derek Maltby of Global MSC Security said: "We are extremely happy to host leading security industry experts such as 360 Vision Technology, they did a great job of informing and educating our delegates about innovative technology, via a very entertaining and dynamic presentation – we're look forward to seeing them again in 2017."
In addition to the conference and exhibition, the Gala Dinner event raised £2,200 for Children's Hospice South West charity, which helps to provide hospice care for children with life-limiting medical conditions.