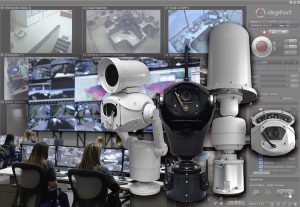 360 Vision Technology extends VMS control with Digifort integration
360 Vision Technology, the UK manufacturer of rugged HD PTZ, radar and thermal imaging cameras, has announced a technical partnership to provide full systems integration with Digifort's world-leading IP based VMS solution.
Competitively priced with no on-going licence costs, the Digifort IP VMS software platform offers high-quality video monitoring and management, combined with flexible and secure RAID video storage, to suit any size of video surveillance project. In addition, Digifort VMS can be upgraded to include analytics, LPR, facial recognition, POS and access control functionality.
Offering fast & simple set-up, the Digifort VMS now includes comprehensive camera SDK integration to the full range of 360 Vision surveillance cameras. Exceeding and not limited by ONVIF, 360 Vision camera control encompasses full camera menu and set-up functionality, including PTZ, camera iris & focus control, wash/wipe, and auxiliary switching for built-in long-range IR and/or white light LED illumination.
Harnessing the power of network infrastructure, Digifort VMS and 360 Vision camera control can be used to deliver a high-performance, end-to-end surveillance solution for traffic monitoring, border control, public space, and retail security, management, and health & safety monitoring applications.
"It's great to be working with, and harnessing, the powerful surveillance capability of a world-class UK camera manufacturer," says Nick Bowden, MD at Security Buying Group, Digifort's UK and Ireland representative. "With the 360 Vision camera range fully integrated into our IP VMS, simple device set-up and user-friendly operation is guaranteed to greatly enhance the user experience and maximise system performance."
"We have worked on a number of significant projects in conjunction with Digifort and customers have been very pleased with the performance of the integrated end-to-end solution," comments Sara Fisher, Sales Director at 360 Vision Technology. "Digifort's completely scaleable VMS solution makes a perfect partnership with our range of industrial PTZ cameras."