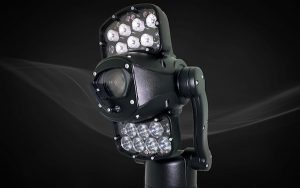 Covert 'No glow' long range infrared technology from 360 Vision – the industry's best kept secret
360 Vision Technology, the UK manufacturer of rugged PTZ and thermal imaging cameras, is experiencing a marked increase in customer requirements for its industry leading, 'No glow' long range infrared technology.
"In recent months we have been approached by a number of CNI and high security customers who had recognised the need to up-grade and increase their security coverage," says Adrian Kirk, 360 Vision Technology's Strategic Accounts Director. "The common factor with these customers is the fact that they tend to have many small remote sites that need discreet security coverage and the unique features of 'No glow' technology lend themselves really well to this type of application."
'No glow' infrared illumination (940nM) is a special type of infrared which eliminates the red-glow (850nM) of standard infrared lighting, by operating at a higher frequency. This type of lighting is typically used in in transportation, to ensure that drivers of vehicles or trains are not distracted. Wider deployment has been limited due to performance considerations.
Adrian continues: "Typically, 'No glow' Infrared technology has sacrificed performance in comparison with standard infrared and the usable range supplied by alternative manufacturers tends to be around 50 metres. 360 Vision's recent development has focussed on increasing this range to reflect the needs of most site operators and with impressive performance now available at ranges from 100m to 300m. We see more security applications benefiting from the covert attributes of 'No glow' technology, including coverage of larger sites and perimeters, where customers simply don't want to attract attention to their assets or the site being protected.
"Many people don't know that 360 Vision manufacture all of its own lighting solutions in their Cheshire based UK factory and that they were the first camera manufacturer to launch fully directional white light as a security feature on-board a fully functional PTZ camera, 10 years ago.
"This is yet another first to market achievement by 360 Vision Technology, bringing out 'No glow' infrared technology with comparable ranges to standard infrared, allowing our Systems Integration Partners to benefit from another key differentiator when competing for new business across a wide range of high security and transport sectors."
Download the latest brochure here