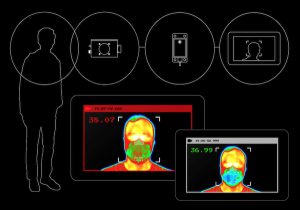 360 Vision supports safer environments with Celsius body temperature screening
Responding to customer requests for an accurate and reliable elevated body temperature screening solution, UK CCTV manufacturer, 360 Vision Technology, has released Celsius.
A non-contact temperature monitoring solution for stand-alone, or integration into access control or VMS, ONVIF compliant Celsius utilises proven thermal technology to deliver its highly accurate, high speed, elevated body temperature screening.
Ideal for use to identify individuals with an elevated body temperature (one of the symptoms related to COVID-19), Celsius can be easily and quickly deployed to help prevent and reduce the spread of infection, and increase the level of protection for staff, visitors, and contractors. In addition, a raised body temperature reading can also indicate a raised level of anxiety i.e. to provide an alert to a potential terror suspect.
Applications for effective Celsius deployment include anywhere where it would be desirable to detect persons with elevated body temperature, for example, at entrances to commercial premises, schools, airports, and border control; to support safer environments, business continuity and provide reassurance. Competitively priced, unlike with many other body temperature screening solutions, UK manufactured Celsius alleviates the headache of GDPR compliance, as the system does not store any onboard visual data.
Supporting long-term reliability and accurate temperature reading, the Celsius system's Reference Control Body is hard-wired to the Camera Control Unit, to provide constant ambient temperature calibration and ensure fluctuations in ambient temperature are attenuated to the thermal camera's output, meaning there is no need to detach or remove the system for calibration. Also, thanks to its extremely small form factor, Celsius assists flexible retrospective installation and can be easily located adjacent to portals, access gates, or turnstiles, etc.
"We are extremely delighted to be able to respond to a significant number of existing CNI customers, who early on in the COVID-19 pandemic, approached us to supply a credible, accurate and reliable elevated body temperature screening solution, for standalone or integrated access control deployment," says Mark Rees, Managing Director at 360 Vision Technology. "With its easy to install and simple operation, highlighting persons of interest with an on-screen flashing red bar and audible alert, we have already gained a significant number of sales orders. We have therefore moved to offer this highly-effective screening device to the entire security market, to help support entities with their COVID-19 protective measures."