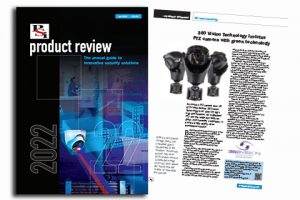 Invictus HD PTZ green technology camera featured in PSI Product Review 2022
360 Vision Technology's Invictus HD PTZ camera with green technology was recently selected to appear in the annual PSI Product Review publication.
A highly regarded independent specialist electronic security industry publication, PSI Product Review highlights the very best security equipment technology in its class – as selected by the publication's editor.
Extract from PSI Product Review: 'With its own Elexon Charge Code, the unrivalled green credentials of the Invictus camera cannot only save CCTV system owners substantial energy costs but also reduce the environmental impact of operating the camera'
Click here to read the Invictus HD PTZ Product Review article.