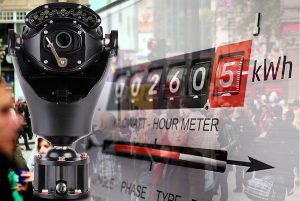 360 Vision Technology announces significant energy cost savings for Elexon Charge Code Users
Capitalising on the unrivalled low power consumption of their CCTV surveillance cameras, 360 Vision Technology is delighted to announce that its Invictus range of PTZ cameras have been assigned their own Elexon Charge Codes, with the benefit of substantially lower energy bills for organisations operating Public Space Surveillance (PSS) systems.
Public sector bodies, such as local authorities and urban traffic control, are charged for their Unmetered Supply (UMS) outdoor powered devices via a Balancing and Settlement Code (BSC). Elexon manages the BSC, and makes sure that electricity suppliers are paid, and customers are billed, according to the specific Charge Codes relating to a products' power consumption. For CCTV systems, the generic Elexon Charge Code predominantly accredited to surveillance cameras is tagged at 100 Watts power draw. This means that electricity consumption is typically billed at 100W per camera deployed.
However, using 360 Vision's low power consumption Invictus PTZ cameras, and their new Charge Codes, organisations operating CCTV systems can achieve power consumption savings of an incredible 70%.  Impressively, these cost savings are achieved whilst also utilising integrated LED white light or infrared illuminators. This is a significantly lower power draw versus peer PTZ cameras with generic Charge Codes.
"It's imperative that security equipment vendor specifications include Elexon charging codes, and for local authority clients it's a fundamental requirement," says Derek Maltby, Managing Director of security consultants, Global MSC Security. "We are delighted to see that with this initiative, 360 Vision Technology are proactively driving-down the operational costs for Public Space Surveillance owners."
"The new Elexon Charge Codes for the highly popular Invictus PTZ surveillance camera range is set to save CCTV system owners substantial energy costs," says Sara Fisher, 360 Vision Technology's Sales Director.  "On a 100-camera system, surveillance system owners could save more than £18,500.00 in energy costs and in turn, reduce their carbon footprint by 37 tonnes over a 5-year period, compared to the closest equivalent camera models on the market. That's a compelling return on investment and a significant reduction in the cost of ownership. Furthermore, the Invictus camera's low power draw of less than 13W (in automatic low-power mode), is unrivalled when it comes to green energy credentials."