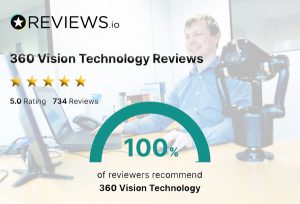 360 Vision Technology targets first-class customer service with Reviews.IO
360 Vision Technology, the leading UK manufacturer of rugged HD, hybrid, radar and thermal imaging cameras, is please to announce that its customer satisfaction level on Reviews.IO has reached an exceptional 4.95/5 customer rating over 700 reviews, with 100% of reviewers saying they recommend the company.
Helping 360 Vision to monitor and develop the performance of its customer service operation, the company has integrated into its Microsoft Dynamics customer support and management system, the online review platform, Reviews.IO
With Reviews.IO, customers are proactively encouraged to leave a review about any aspect of 360 Vision'sbusiness, whether that be their experience with customer/technical support, products, sales or shipping, etc.
Taking-up the story, Craig Carton, Customer Services & Technical Support Manager at 360 Vision explains: "It's the perfect platform to enable us to benchmark ourselves to know if we are doing the best job possible. Launched to help us build a first-class customer support service, Reviews.IO supplies invaluable and verified feedback from customers. Whether it be good or not so good, we listen to our customers and capitalise on that essential feedback, using it to help set and maintain high standards for SLAs and KPIs.
"We're using Reviews.IO alongside our bespoke enquiries ticketing system, that aids fast responses and resolution to enquiries, in fact, we aim to return all enquiries within 2 hours. On conclusion of an enquiry, Reviews.IO prompts customers in real-time to write a review about their service experience, it is then independently verified and published, giving us legitimate, verified feedback on our performance. As a British company, we're proud to be able to offer first-class local support, which is available and accessible via phone or email."
The feedback returned via Reviews.IO not only gives the customer services team at 360 Vision an insight into current performance and issues, but is also fed back and used to develop products or training, or enhance customer service management etc.
"Our customers are at the heart of everything we do," says Mark Rees, Managing Director at 360 Vision Technology. "That's why we chose to undertake a review facility, to ensure that our customers can not only provide us with their unbiased feedback but in return, we can consistently offer our very best service. Whilst the hundreds of positive reviews we have received via Reviews.IO are testament to our commitment to excellent pre and post-sales service, it's also a very important mechanism that enables us to constantly analyse and improve.
"Customer feedback is essential for many aspects of our business and whilst it is amazing to receive high praise, it's also the ability to study any less positive reviews and provide proactive correction. Every review we receive is read and assessed, and if we have fallen short, we commit to contacting a customer directly to rectify their issue to their satisfaction."