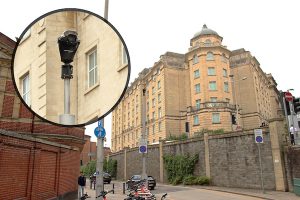 360 Vision Technology win significant Invictus PTZ camera roll-out in Bristol
UK CCTV manufacturing company, 360 Vision Technology, confirms that its Invictus high-performance, ultra-low-light, HD ruggedised PTZ camera is being rolled-out across the boroughs of Bristol.
Over the past 10 years, 360 Vision Technology has developed a successful partnership with Bristol City Council, with the company supplying its Predator PTZ cameras for the city's public space CCTV, traffic and Metrobus projects. Building on that legacy, Chroma Vision have been awarded a contract to upgrade Bristol city centre's existing camera network, with 360 Vision Technology Invictus PTZ cameras.
Utilising Bristol City Council's privately owned fibre-optic cable network, to date, Chroma Vison have installed 120 Invictus cameras, with 40 more units earmarked for installation in the next phase. In total, the new contract will see 350 Invictus cameras employed on the streets of Bristol.
Bridging the divide between analogue and IP systems, and coupled to attractive pricing, the Invictus PTZ camera features industry-leading low power consumption, offering system operators significant energy savings, allied to low running costs. The cameras' low carbon footprint also helps Local Authorities to meet their all-important carbon footprint reduction goals.
Completing the Invictus' highly-competitive camera package and providing peace-of-mind for local authority operators, the cameras' high-quality paint finishes are supported by 360 Vision's UK based design and manufacturing resource, and a comprehensive 3-year warranty, or an enhanced optional 5-year full warranty on request.
"As a business we have worked with 360 Vision on many projects over the years and the incredible all-round imaging performance of the 360 Vision Invictus camera, coupled to attractive pricing, made it the perfect choice for deployment in Bristol," confirmed Rick Aisthorpe, Engineering Director at Chroma Vision. "360 Vision have also supported us during the implementation phase of this project and are always happy to assist via phone or on site."
Mark Rees, Managing Director at 360 Vision Technology commented: "We place great value on our partnerships andwe are delighted to be working with Chroma Vision on this significant upgrade project that continues 360 Vision's camera legacy in Bristol. With a host of performance and user centric operational benefits, Invictus cameras feature extensively in many Local Authority upgrades, as customers look at total cost of ownership and the need to ensure CCTV equipment deployed is fit for purpose."