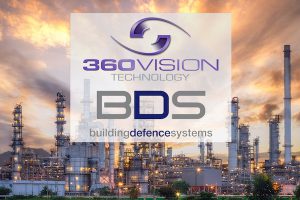 360 Vision Technology announces Middle East region partnership with BDS
360 Vision Technology, the UK manufacturer of rugged HD, radar and thermal PTZ imaging cameras, has announced a partnership with Building Defence Systems (BDS), to provide the entire portfolio of 360 Vision industrial cameras throughout the Kingdom of Saudi Arabia and wider GCC region.
An industry renowned supplier and installer of specialist perimeter protection and entry point control solutions throughout the GCC and MENA region, BDS specialises in providing its clients with the highest levels of security against terrorist or criminal attack. Since its inception, BDS has built an outstanding regional reputation as a professional supplier and installer of perimeter protection solutions.
Entrusted by some of the largest systems integrators and EPC contractors to deliver security solutions to blue chip and governmental clients, BDS has played an integral part in the protection of Critical National Infrastructure in the heartland of the Middle East. With Headquarters in Bahrain and regional offices across Saudi Arabia, Oman, and Kuwait, BDS is strategically positioned to support its clients, delivering the 360 Vision Technology camera range, along with full technical and sales support.
"As one of the leading physical security solutions providers, BDS is pleased to partner with 360 Vision Technology, a renowned UK manufacturer with a superb reputation, built on innovative, best in class industrial CCTV camera technology," explains John Benton, BDS Managing Director. "The drive, ambition and track record of the 360 Vision team perfectly complements BDS's own business ethos. We are excited at the prospect of what the partnership can deliver to our clients in the region and have already received extremely positive feedback from existing end users about what our joint efforts may now offer."
"We are absolutely delighted to be partnering with BDS in the Middle East," continues Sara Fisher, 360 Vision Technology's Sales Director. "Their longstanding experience and outstanding credentials as a physical security technology provider into the industrial sector in the GCC region and, in particular, the Kingdom of Saudi Arabia, is second-to-none.  With the strong teams and the enthusiastic approach that exists on both sides, we are very much looking forward to working with BDS to deliver the success we will undoubtedly build together."
BDS supply security products to Critical, Corporate and Governmental infrastructures throughout the Middle East. With an established reputation for intimate knowledge of regional security markets and their requirements, BDS build and maintain an impressive client base across the oil & gas, Government agencies, ministerial and banking sectors.