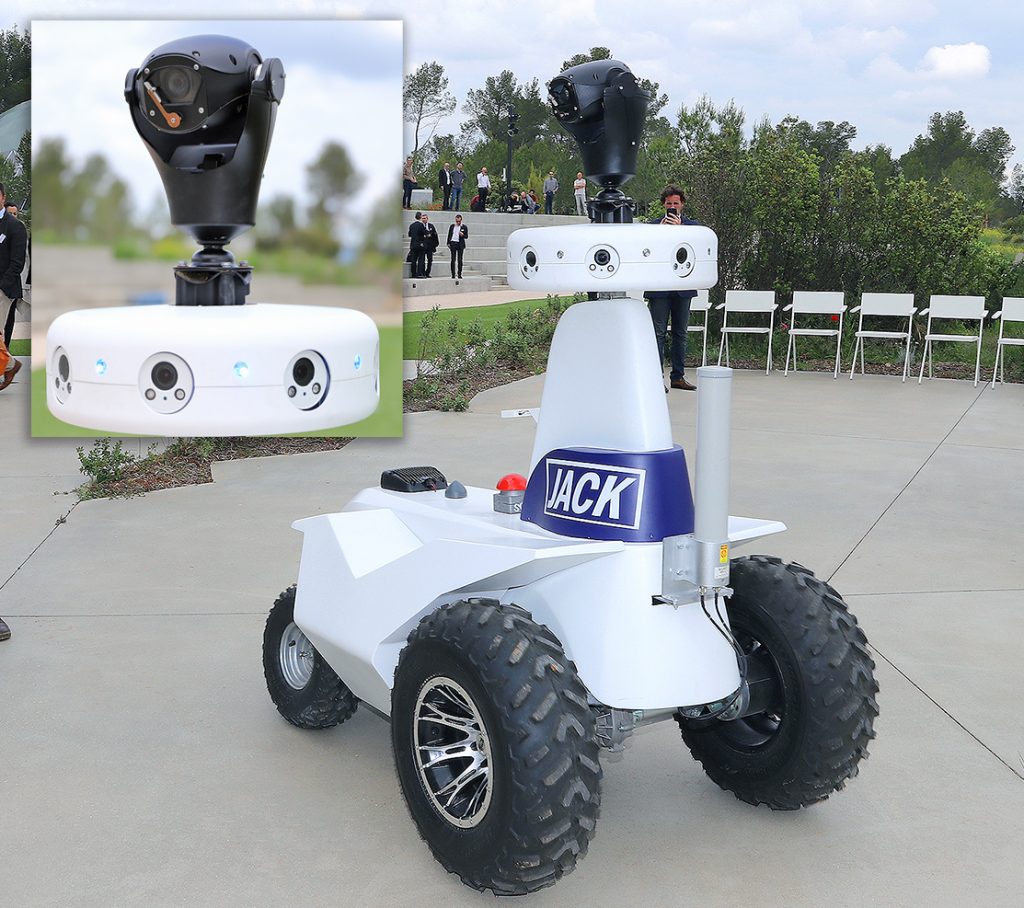 360 Vision's Invictus onboard Robot Jack debut at EuroSatory
TBC-France, the worldwide supplier of advanced security robotics solutions has incorporated 360 Vision Technology's new Invictus high-performance ruggedised all-in-one PTZ camera into its advanced autonomous security robot, Jack.
Developed in Europe, robot Jack has been designed to provide security companies with an effective solution for live roving surveillance of sensitive sites, such as large outdoor or indoor warehouses, ports, industrial complexes, gas and oil facilities, solar power stations, prisons or military bases, etc. An autonomous robot built to exacting standards of component quality and durability, Jack can be deployed to enhance the security surveillance of any critical/sensitive site.
A secure, high-quality multi-terrain autonomous surveillance and intervention, Jack's advanced mobility and obstacle detection software, embedded artificial intelligence and secure communications technologies enable this tireless patrolman to promptly detect intrusions or anomalies – to carry out safe and effective risk assessments.
To provide the demanding imaging quality needed to secure Jack's machine vision, TBC-France approached 360 Vision Technology's VAR, Dealpixpro. "Originally TBC-France purchased a selection of small and compact size PTZ cameras from our portfolio, however technical tests demonstrated that these products were not sufficiently ONVIF compliant to be integrated," reports Pascal Wojciechowski, Sales & Marketing Director at Dealpixpro. "TBC-France's strategy was to build a robot with Made in Europe components. With this in mind I recommended 360 Vision's new INVICTUS camera, as its high performance specifications and value for money matched with TBC-France's expectations, and liking the camera package TBC-France borrowed a demo unit for evaluation."
On confirmation that Invictus would integrate easily into robot Jack's command software, and along with integrated Sirius LED illumination and ultra low-light full 1080P HD colour/mono camera imaging, TBC-Francedecided to incorporate Invictus.
"Nearly all of the components for Jack are made in France, Europe, or NATO countries," comments Mathilde Bravais, Marketing Managerat robot Jack's manufacturer, TBC-France: "So we looked for a European manufacturer that could provide us with a performant camera resistant enough to be placed on a multi-terrain robot. We shortlisted the Invictus camera because it matched all our criteria, and we valued the fact that 360 Vision Technology is a specialist company that only manufactures cameras, which shows its expertise in the area. The Invictus camera is an essential component for Jack. Whenever the robot detects something, Invictus becomes the eyes of the guard in the field, its level of quality and performance enables Jack to see with precision and reactivity."
The final development of robot Jack offers up to 18 km/h on or off-road autonomous mobile surveillance and integrated video analytics with human detection. Making its debut appearance at June's Eurosatory international Defence & Security industry trade fair in Paris, at the show, Jack demonstrated its ability to be deployed for patrol and intervention. For use over all types of terrain, Jack'ssimple integration into existing security systems for situational awareness and alarm activation means the novel solution is now set to reduce intervention response times, decrease operational costs and minimise risks to staff for a broad range of end-user applications.
"Robot Jack dramatically illustrates the direction new security solutions are taking to provide enhanced levels of mobile autonomous situational awareness," says Mark Rees, Business Development Director of 360 Vision Technology. "We're pleased that the Invictus camera with its latest ONVIF 2.4 Profile Scompliant protocols for fast set-up, IP67 certification and rugged build quality was selected to provide the eyes for Jack for dependable performance in any environment."